How to adopt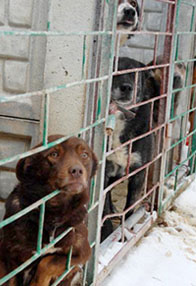 If you decide to adopt a shelter dog, contact us first. Our volunteers are perfect dog matchmakers! They are familiar with their pupils and will gladly help you find a dog fitting in with your family's lifestyle.
Prior to adoption we schedule a visit for us to get to know you, and for you to get to know your dog.
Adopting a dog means you will have to sign an adoption agreement.
Only persons over 18 are allowed to adopt.
You don't always have to drive to the shelter to adopt.
At any time we are taking care of several dogs within Warsaw – they are kept either at foster homes or in dog hotels. These pets either required immediate help or couldn't adjust to shelter conditions. They need your help the most. They are also the ones we know best – we can tell you exactly how they interact with other animals and children as well as if they are housebroken. Please consider adopting one of them first.