Virtual adoption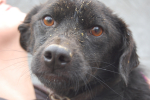 You can't take a dog home. There can be many reasons: you already have too many, you wouldn't have time to take care of him, your lifestyle doesn't allow you to keep pets or a member of your household is allergic.
If you still want to help one of our animals you can do so by adopting a dog virtually. This might be his only chance at adoption and you could be his only caregiver.
What is virtual adoption

A virtual adopter pledges a fixed monthly donation for the benefit of one of our dogs. You can set the amount yourself. Often a single donator cannot cover the total cost of caring for a single dog – these often include such expenses as veterinary care, specialist feed or housing in a dog hotel. This is why the more donators sign up, the better it is for our animals.
Virtual adoption doesn't mean that we stop looking for homes for our dogs. It's quite the opposite – we encourage donators to help us in the process, and inform them if a suitable adopter is found.
How to adopt virtually
Next to each dog's profile there is a link to a virtual adoption form. Just fill it out and click send. We will contact you over the phone or e-mail to confirm receipt of your pledge.
Your screen name will appear next to the dog's profile photograph and you will receive updates about your adoptee.